2
MIN READ
Bro. Eliseo Soriano, Presiding Minister to Members Church of God international (MCGI), takes to Youtube to answer people's spiritual questions in Spanish- and Portuguese-speaking nations live, and as always, according to the Bible.
The Filipino preacher makes his weekly live broadcasts on the "El Camino Antiguo" Youtube account for the Spanish-speaking viewers every Wednesday, at 8 PM Brazil time.
MCGI Vice-Presiding Minister Bro. Daniel Razon joins Bro. Soriano for the Spanish broadcasts, which airs at 8 AM in the Philippines.
Bro. Soriano also answers questions from Portuguese audiences on the "O Caminho Antigo" account for the Portuguese-speaking audiences at 7 PM Brazil time (7 AM PHT) on Thursdays.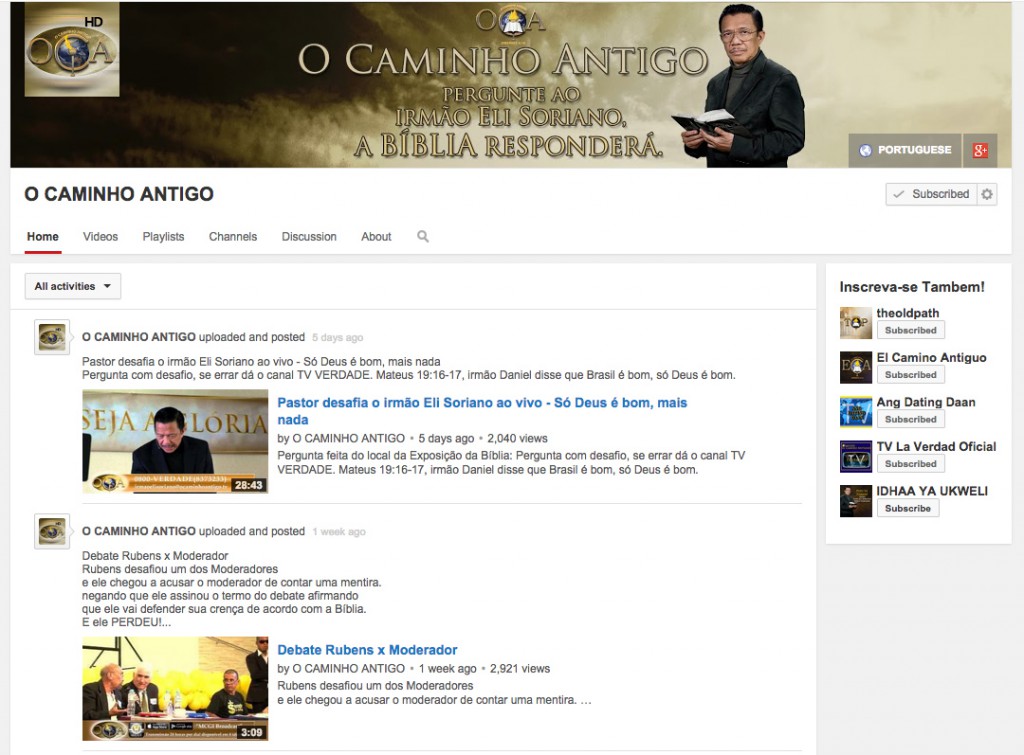 To assist the growing number of Portuguese viewers, MCGI leaders have put up 0800-Verdade, a hotline number dedicated to helping those who would like to ask Bro. Eli their spiritual questions on the air.
Within less than two months of broadcasting the live Q&A on Youtube, more than 60 callers are reported to contact the hotline number on a daily basis. During the live airing of the program, the number of callers is doubled.
Both Youtube live programs are broadcasted in and are participated by majority of the Latin American countries, which includes Brazil, Ecuador, Bolivia and Peru, to name a few.
Established MCGI coordinating centers in various countries in South America serve as monitoring areas where the live Q&A can be viewed by Church members and visitors alike.
The live Youtube broadcasts are part of MCGI's worldwide propagation efforts. In addition to answering questions on Youtube, Bro. Eli answers people's queries weekly during the MCGI Thanksgiving to God celebrations and monthly worldwide Bible Expositions. He also writes blogs as well as answer questions on Twitter.
To explore every possible avenue of broadcasting the word of God, MCGI broadcasts can be seen worldwide through their 24/7 Internet programs, as well as their cable, satellite, radio and print broadcasts.
Written by Pauline Arellano