2
MIN READ
Just how the Philippine National Anthem when heard can kindle Filipinos' sense of nationalism, songs of praise can rouse sense of gratitude to the Almighty Creator and convey His existence.
This was the message Bro. Eli Soriano, Presiding Minister to Members Church of God International (MCGI), shared as part of his speech during the A Song of Praise (ASOP) Music Festival Grand Finals Night on September 23 this year.
"A song has a great influence. Perhaps, through singings songs of praise to God, the [number of] atheists in the world can be decreased," said Bro. Eli, adding how songs of praise can be instrumental in reaching more people even those who do not believe in the Creator.
"I told Bro. Daniel, I want to create a songwriting competition to produce more songs of praise," said Bro. Eli as he recalled how the idea of launching the songwriting competition emerged.
Bro. Eli and Bro. Daniel have been adamant in propagating the words of God in pursuit of bringing people back to God.
The ASOP Music Festival is the Philippine's first songwriting competition dedicated to producing praise songs for the Lord. Aired over the Philippine UHF Channel UNTV, the program has recently concluded its third season at the Smart-Araneta Coliseum.
The songwriting contest is a brainchild of Bro. Eli and Kuya Daniel Razon, the Chairman and CEO of Breakthrough and Milestones Productions International (BMPI), content creator for UNTV. Incidentally, Kuya Daniel is Vice Presiding Minister to MCGI.
Praise song is from billions of years ago
Apart from the praise song being revealed as a medium in sharing God's words, Bro. Eli shared yet another biblical trivia about this kind of music. Citing verses Job 38:4-7, Bro Eli explained that singing is from billions of years ago and what the angels sang when the earth was being made is a song of praise.
"Singing is older than the earth. I believe that [the] song [the angels sang when God created earth] is for the glory of God. It is ASOP – a song of praise," said Bro. Eli, then added, "They [angels] are praising the Lord for what He is doing, because He is creating the earth that will be the habitations of humans."
Using music for a greater purpose
On his part, Bro. Daniel also expressed how important it is to dedicate songs to the Lord.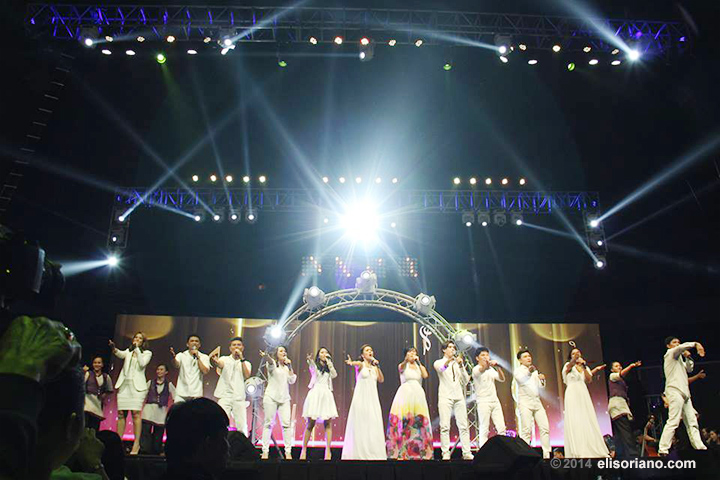 "A song is an expression of emotions. As we hear how in many ways lyrics and notes are used, it is of greater importance to use music in a more significant manner, and that is by praising God," Bro. Daniel remarked before the eager crowd at the jam-packed Araneta Coliseum.
Like Bro. Eli, he also pointed out the role of singing praises in reaching people. He said, "With ASOP Music Festival, I believe that it can help in reliving the urge to sing songs of praises to God."
For three years now, the program ASOP Music Festival has been an open avenue for amateur and professional songwriters to share the musical compositions they crafted to give praise and delight to God.
The television show is apart from the songwriting competition of the same name exclusive for MCGI. Bro. Eli and Bro. Daniel initiated this endeavor in 2004 to encourage the Church members to write songs for the Lord.
Twelve new songs of praise
This year's ASOP Music Festival Grand Finals celebrated another twelve new melodies and lyrics exalting the name of God.
Amateur composer Louise Lyle Robles' "May Awa ang Dios (God's Mercy)" was hailed Song of the Year that came with P500,000 ($11,370) cash prize. World Championship of the Performing Arts champion Beverly Caimen, who rendered Robles' composition, was declared Best Interpreter.
"Sa Bawat Araw (In Every Day)", composed by Marlon Nabia, "Tanging Gabay (Special Guide) " by Arniel Villagonza, and "Biyaya (Grace) " by Meldin Nabia were the first, second and third runners-up, respectively.
The People's Choice Award was given to Jinnie Adilan's "Hanggang May Tinig Ako (As Long as I Have My Voice)".
The winners received trophies and tax-free cash prizes.
The board of judges, chaired by Apo Hiking Society member Danny Javier, included some of the country's well-respected music personalities like composer Danny Tan, Hanggang singer Wency Cornejo, Master Impersonator Willie Nepumoceno, Alpha Records' Alvin De Vera and ASOP's resident judge, Mon Del Rosario.
Actor-director Cesar Montano, music icons Lilet Esteban and Rachel Alejandro, Freestyle's Ava Olivia Santos and Kenyo's Mcoy Fundales were some of the composers and interpreters who joined this year's competition.
Written by Emmy Borromeo