To our Spanish and Portuguese-speaking audiences, check out our Bible Exposition schedules from January 20 to 24, 2019 (Brazil Time).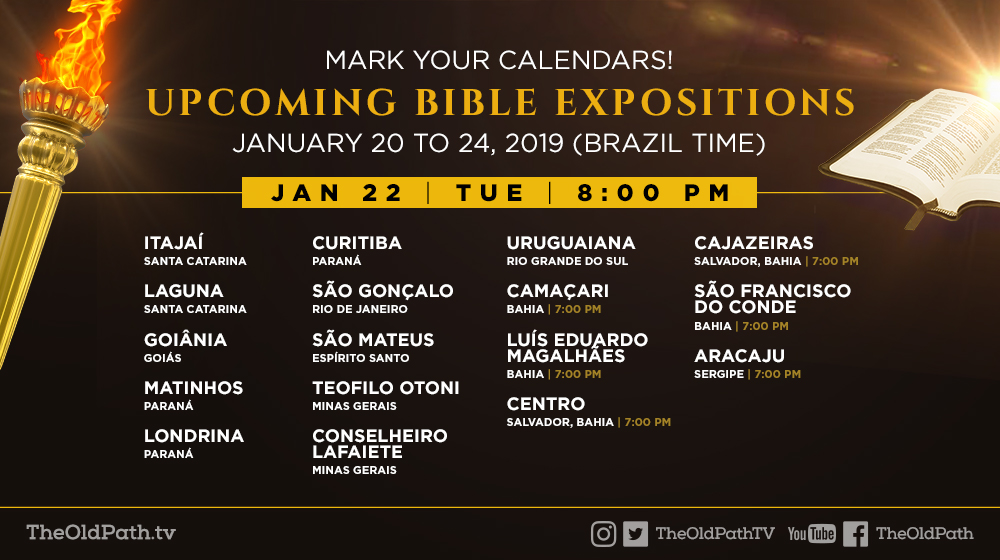 Hosted by Bro. Eli Soriano and Bro. Daniel Razon, you can watch the live stream of the Bible Expositions via the following accounts and channels:
Facebook Live Streams
Tagalog: https://www.facebook.com/AngDatingDaanTV/
Portuguese: https://www.facebook.com/ocaminhoantigotv/
Spanish: https://www.facebook.com/elcaminoantiguoOficial/
Note: The live stream for Brazil-hosted Bible Expositions is currently not available in English. For Bible Expositions in English, please join us in our Worldwide Bible Exposition sessions.
YouTube Live Streams
Tagalog: https://www.youtube.com/angdatingdaan
Portuguese: https://www.youtube.com/ocaminhoantigoHD
Spanish: https://www.youtube.com/user/elcaminoantiguo
English: https://www.youtube.com/TheOldPath