2
MIN READ
Taking another means available to propagate God's words, Bro. Eliseo F. Soriano's Ang Dating Daan broadcasts can now be viewed through smartphones and tablets using a native mobile app.
MCGI Broadcast app can be downloaded for free by users of iOS and Android devices.
MCGI stands for Members Church of God International, the religious group more popularly-known by the name of the religious program it produces, Ang Dating Daan.
MCGI Broadcast app delivers a 24-hour-a-day video streaming of the religious programs hosted by Bro. Eli in different language formats. The Filipino-language format Ang Dating Daan has counterparts in English, Portuguese, and Spanish languages.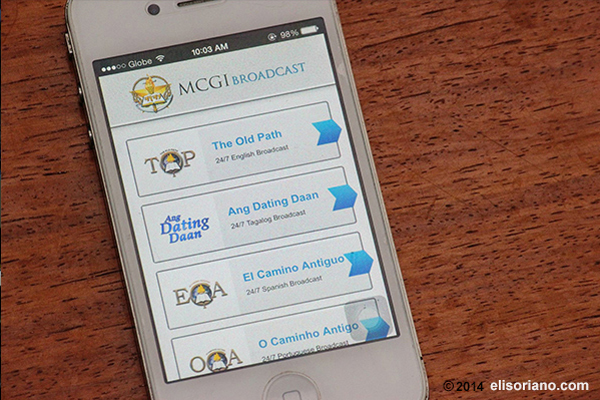 The app provides options for users to select the different MCGI broadcast streams. These are: The Old Path (English), Ang Dating Daan (Tagalog), El Camino Antiguo (Spanish) and O Caminho Antigo (Portuguese).
MCGI Broadcast App was conceptualized by Kuya Daniel Razon, the Vice-Presiding Minister to MCGI, aimed at reaching mobile and tablet users worldwide.
The app will also especially cater Spanish- and Portuguese-speaking audience of the broadcast programs hosted by Bro. Eli.
Ang Dating Daan has started in the Philippines as a radio show in the early 1980s. As the program's audience grew wide, Bro. Eli brought the program in television.
Moreover, "Itanong Mo Kay Soriano" (Ask Bro. Eli) has gained popularity as a segment of Bible Exposition and Ang Dating Daan because it allows audience to ask Bro. Eli their questions live.
The segment also earned a strong following from audiences in Central and South American shores.
MCGI Broadcast app can be downloaded for free at the Apple App Store and Google Play.
(Written by Roy Cruz)